COSRX PHA Moisture Renewal Power Cream 50ml + Galactomyces 95 Whitening Power Essence 100ml
Features
An all-in-one skin care line with whitening, anti-aging, trouble care, and moisturizing effect.
REVIEW on COSRX PHA Moisture Renewal Power Cream
PHA sounds like laughter.
.
This is the first time I've ever heard about PHA(Polyhydroxy Acid), and it's supposed to be similar to AHA.
.
The skin surface improving AHA has some side effects like stimulation.
.
PHA has the same functions as the AHA, but is much milder in the means of stimulation.
.
.
A cream that will smooth the skin mildly with the relatively safe PHA ingredient.
.
.
There is an internal cap under the lid.
.
.
I could feel the sticky, chewy cream when I was taking the internal cap off.
.
After removing the cap, I could see the stickiness with my eyes.
.
.
The texture, however, was quite different from what it seemed like.
.
It was very smooth and moist with gel-like texture.
.
.
The cream still has some tightness I felt at first sight.
.
.
It feels like I am applying a smooth gel cream.
.
.
I couldn't notice much scent from this moist cream.
.
It feels like the cream formed a thin barrier of moisture on my skin after applying.
.
.
It might be stimulating when the skin is sensitive, but as promised, the PHA product was not as stimulating as AHA or BHA products.
.
My skin was quite sensitive when I applied the cream as I put on and cleaned make-ups all day long, but I could only feel weak stimulation before it faded away.
.
.
The skin becomes tight and firm after applying.
.
I could feel moisture filling my skin.
.
There was some slimy oil I could feel, but it was mostly moisture.
.
The effects could be seen the morning after as I used it as a night cream.
.
Some slippery oil on my skin was what I could feel in the morning.
.
.
I think my skin has become smoother than the morning before after face wash.
.
As for AHA and BHA products, sun screens are imperatively recommended at daytime.
.
Ingredients like AHA and BHA causes *photosensitivity and intensifies the stimulation from UV rays by almost 50%.
.
Skin *photoaging by *photodamage from photosensitivity can be rapidly developed if sun screens are not applied after AHA or BHA products are applied.
.
Anyone using this product should take caution and apply sun screens as PHA is similar to AHA.
.
BHA products are not for me, and AHA products are still stimulating to me.
.
However, PHA products are more safe from side effects like stimulation as its molecules are larger than those of AHA, resulting in less effective absorption leading to less stimulation.
.
Maybe that's why this PHA product was great for me.
.
I would like to recommend this product as a night cream as it could cause photosensitivity with its similarity to AHA products.
.
The ingredients effective in exfoliating are also one of the reasons this product should be used at night.
.
It would be much safer and effective if used as sleeping pack or night cream that takes care of the dead skin cells followed with morning face washes, other moisture creams, and then make-ups.
.
This cream is especially recommended to people with sensitive or dry skin who thought BHA or AHA products were too stimulating for them.
.
*Photosensitivity: An extreme sensitivity to ultraviolet rays from the sun, sometimes referred to as a sun allergy.
*Skin Photoaging: A premature aging of the skin caused by repeated exposure to ultraviolet radiation (UV) primarily from the sun.
*Photodamage: A damage (as to skin or DNA) caused by exposure to ultraviolet radiation.
.

Main ingredients
Cocos Nucifera (Coconut) Fruit Extract 50%
PHA(Gluconolactone) 3%
Niacinamide 2%
pH level 4.0 ± 1
ingredients
Cocos Nucifera (Coconut) Fruit Extract, Butylene Glycol, Glycerin, Caprylic/Capric Triglyceride, Helianthus Annuus (Sunflower) Seed Oil, Cetearyl Alcohol, Gluconolactone, Niacinamide, Betaine, Dimethicone, Cetearyl Olivate, Sorbitan Olivate, 1,2-Hexanediol, BeesWax, Elaeis Guineensis(Palm) oil, Elaeis Guineensis(Palm) Kernel Oil, Hydroxyethyl Acrylate/Sodium Acryloyldimethyl Taurate Copolymer, Ethylhexylglycerin, Citric Acid, Xanthan Gum, Sodium Hyaluronate, Allantoin
COSRX Galactomyces 95 Whitening Power Essence 100 ml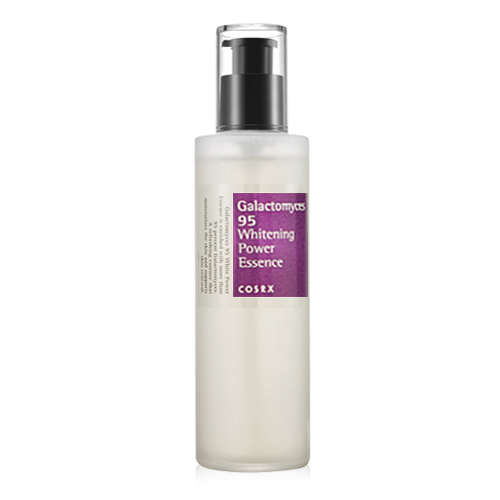 Features

"Effect of natural fermentation getting into the skin, Awakening with whitening skin"
Galactomyces 95 White Power Essence is made up of fermented component with a structure similar to skin,
achieving dual functions of whitening and anti-wrinkle at once as dual function fermented essence.
It is formulated with 95% high concentrate of the best yeast for the skin, that is, Galactomyces filtered & fermented ingredient,
endowing the previously dark, dull skin glow and transparent.
Detail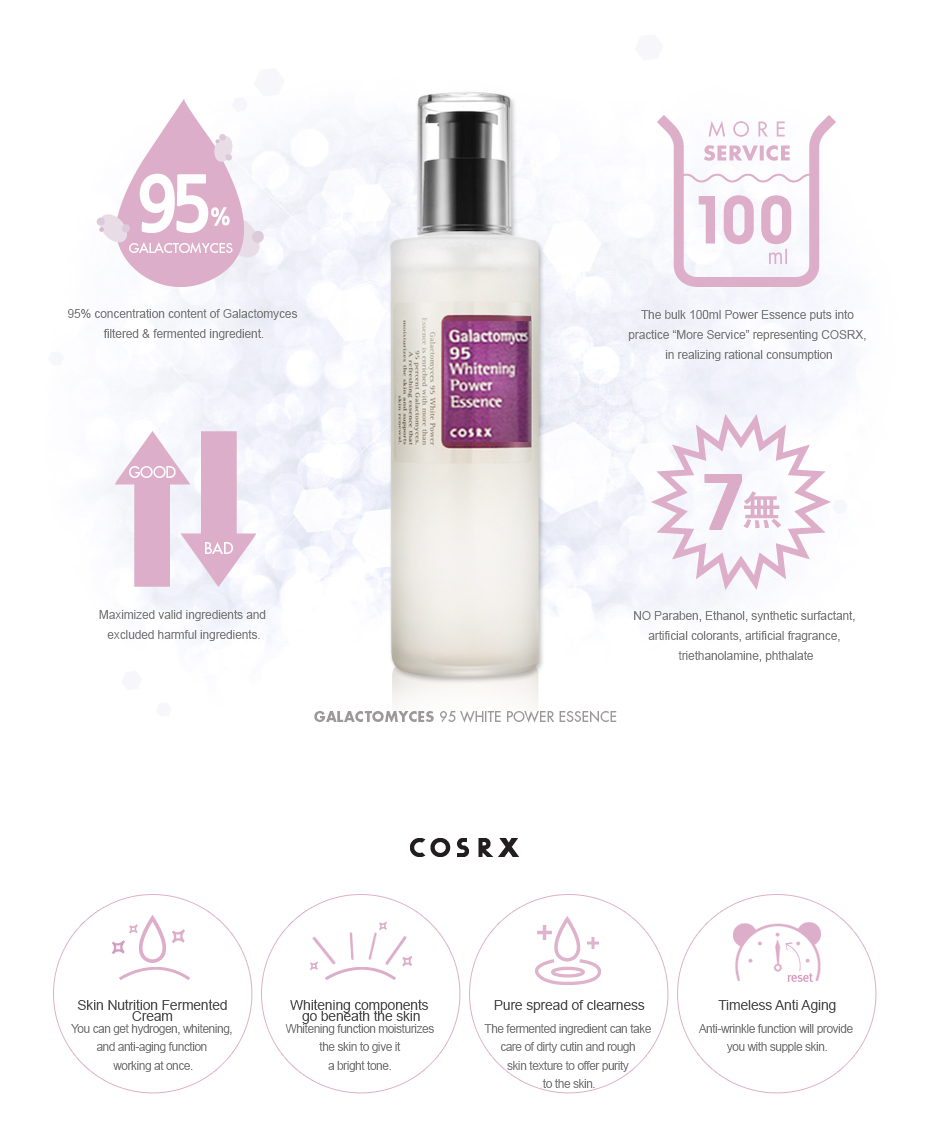 How to use

Product info.
Brand : COSRX
Volume : 100ml
Made in Korea
Ingredients