Holika Holika gudetama LAZY&EASY
Pig Mose Clear Black Head 3 Step Kit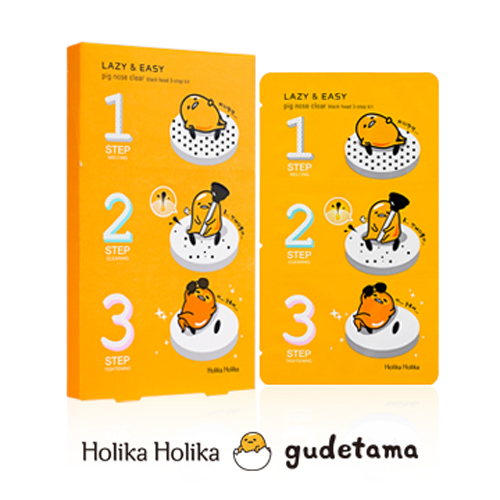 Features
The 3-step blackhead care kit gently melts and effectively removes blackheads and refreshingly soothes pores.
Detail

How to use

Step 1. 15-minute melting care: After washing and towel drying the face, take out Step 1 pure cotton sheet, attach it to the nose, and remove after 15 minutes.
Step 2. 15-minute sebum clear: Fully wet the nose area with water.
With dry hands, closely attach Step 2 Nose Pack closely to the nose.
When the pack is completely dried after 15 minutes, slowly remove from the edge.
Step 3. 10-minute pore soothing care: Take out Step 3. Bio Cellulose Sheet and place on the sebum free nose.
After 10 minutes, remove the sheet and gently pat to promote absorption into skin.
Product info.
Brand : Holika Holika
All Skin Type
Volume : 1ea
Made in Korea
Ingredients
none