Holika Holika Petit BB Cream 30ml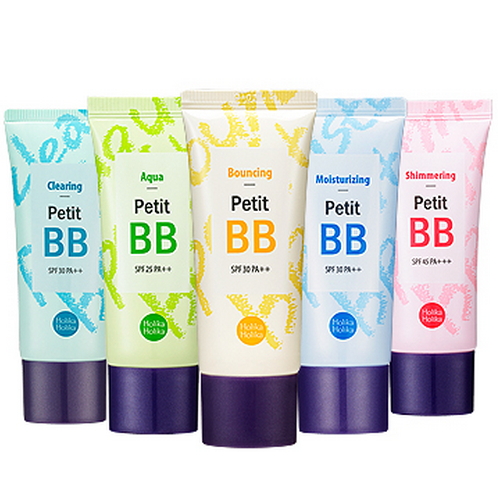 Features
#1 Bouncing (former Essential)
SPF30 PA++
Makes skin bouncy with essential petit BB that contains collagen and caviar!
It offers anti-wrinkle and whitening function to gives life back to your skin.
Recommend for skin loosing vitality and elasticity.
#2 Shimmering SPF45 PA++
Makes skin bright with shimmering petit BB that contains pearl powder!
It adjusts water-oil balance of skin and whiten your skin clearly.
Recommend for skin need bright glow finish.
#3 Clearing SPF30 PA++
Makes baby-like skin with clearing petit BB that contains tea tree extract and sebum adsorption powder!
It changes oily face to soft, powdery and clear skin.
Recommend for skin need fresh finish, no greasy.
#4 Moisturizing (former Moisture) SPF30 PA++
Makes watery glow skin with moisturizing petit BB that contains hyaluronic acid!
It gives moisture to tired and dry skin and makes skin moist.
Recommend for skin suffered with dry atmosphere.
#5 Aqua (former Watery) SPF25 PA++
Makes transparently clear skin with Aqua petit BB that contains green tea & glacier water!
It balances the water content within the skin and anti-oxidizes the skin to be moist and refreshing.
Recommend for skin need light & refreshing finish.
Detail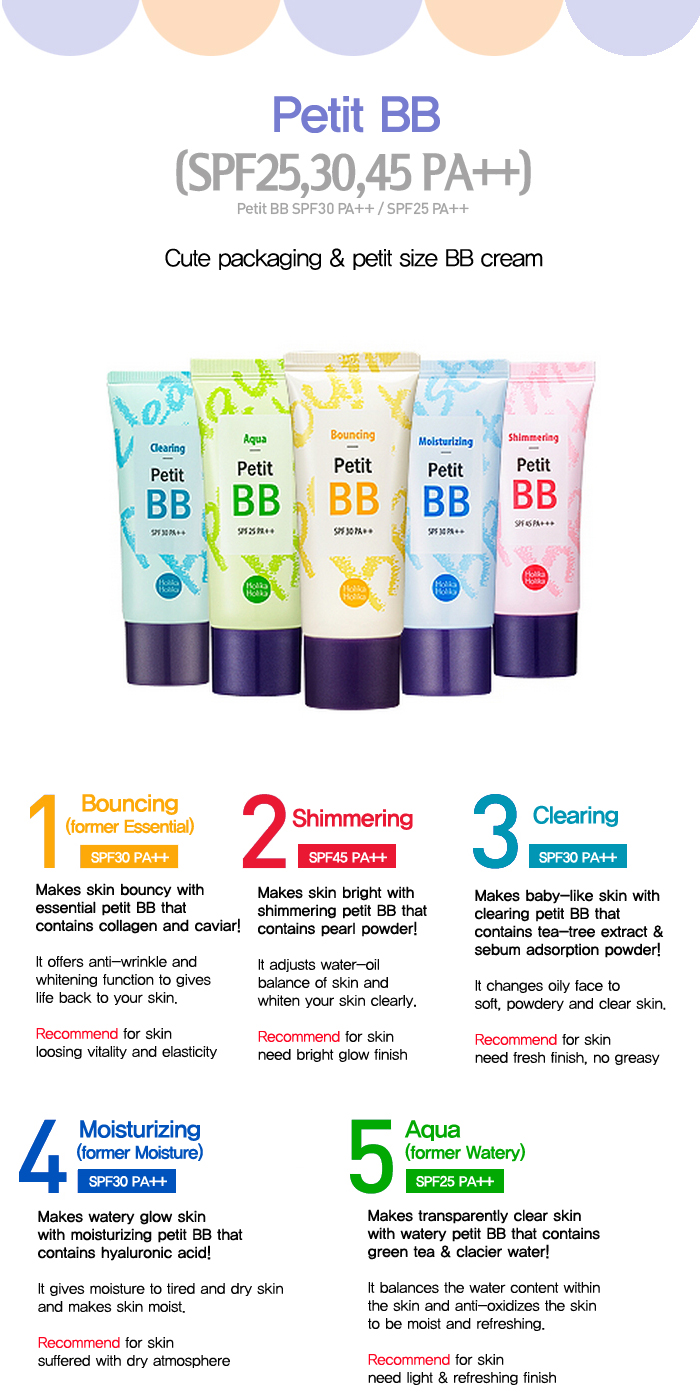 How to use
After all skincare, take proper amount of it and spread it evenly with your fingers.
Product info.
Brand : Holika Holika
All Skin Type
Volume : 30ml
Made in Korea
Ingredients
Titanium dioxide, water, glycerin, triethanolamine, niacinamide,...