Nature Republic Collagen Dream 50
All In One Radiance Tone Up Cream SPF35 PA++ 50ml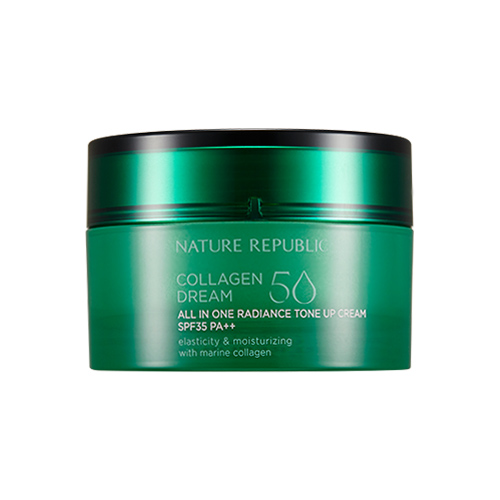 Features
Collagen dream all in one radiance tone up cream provides natural radiance
and restores exhausted skin by utilizing the finest ingredients such as marine collagen,
Hawaii kona deep clean sea water, and acai palm.
Acai palm polyphenol focuses on deep skin hydration, brightening, anti aging, and wrinkle prevention,
while hawaii kona deep clean sea water rehydrates,revitalizes, and restores skin elasticity.
Water collagen 50% and acai palm extracts 83ppm contained.
Detail

How to use
At the last step of skincare, apply an appropriate amount on the face staring from the center of the face.
Working outwards, gently pat to promote absorption into the skin.
Product info.
Brand : Nature Republic
All Skin Type
Volume : 50ml
Made in Korea
Ingredients
none