Nature Republic Real Nature Mask Sheet * 5 sheets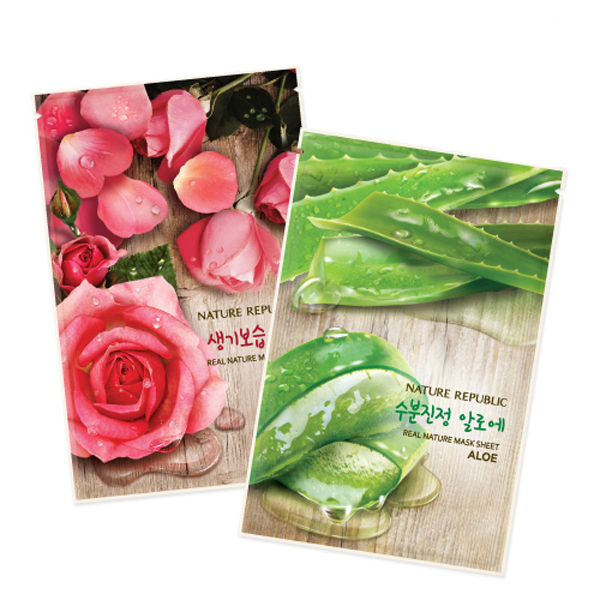 Features

Each pouch contains ample 23ml of essence and triple cellulose sheet will deliver nutrient ingredient more effectively.
Rose : Gives vitality and moisture by Morocan rose and makes skin clear.
Avocado : Gives rich and nutritious moisture by Mexican avocado.
Shea Butter : Gives mazing nutritious finish by African shea butter and makes skin glossy.
Aloe : Gives plenty of misture by California aloe and makes skin moisture and smooth.
Green Tea : Gives mild moisture by Bosung green tea.
Tomato : Gives whitening effect by Jangsu tomato and makes skin bright.
Acai Berry : Gives nutrition by Brazilian acai berry and makes skin elastic with adenosin.
Royal Jelly : Gives nutrition and gloss by Gangwon royal jelly and makes skin elastic with adenosin.
Bamboo : Gives clear moisture by Damyang bamboo and makes skin moist and clean.
Cucumber : Gives ample moisture by Namwon cucumber.
Detail

How to use


After cleansing open a pouch and apply mask on face. Remove mask after 15~20 minutes.
Product info.
Brand : Nature Republic
Volume : 23 ml
Made in Korea
Ingredients
none