Sulwhasoo Snowise Brightening Serum 50ml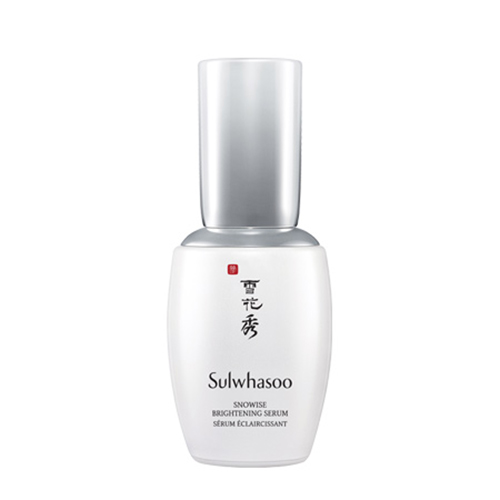 Features

Brightening white ginseng gently cares for translucent skin
Sulwhasoo's patented white ginseng-based illuminating beauty regimen is
the world's first solution using skin-brightening white ginseng saponin and white ginseng
polysaccharide extract, which provides 2.5 times more hydration. The saponin
and polysaccharide are specially fused to create this moisture-rich brightener.
[Brightening]
The voluminous brightening effect lifts the youthful glow to the skin's surface
Delivers deep nourishment to your skin, helps prevent melanin, and brings out your inner youthful glow for a clearer skin tone.
Experience a voluminous brightening effect that begins from within.
A moisturizing texture that absorbs effortlessly into your skin
The gel-type texture of this richly hydrating and highly absorbent serum glides on coolly and smoothly,
spreading evenly across the skin's surface and to deliver brightening components to the skin.
Detail

How to use
Apply 2-3 pumps every morning and evening.
Product info.
Brand : Sulwhasoo
All Skin Type
Volume : 50ml
Made in Korea
Ingredients
none