TOSOWOONG Aqua Tok Tok CO2 Mask 5sheets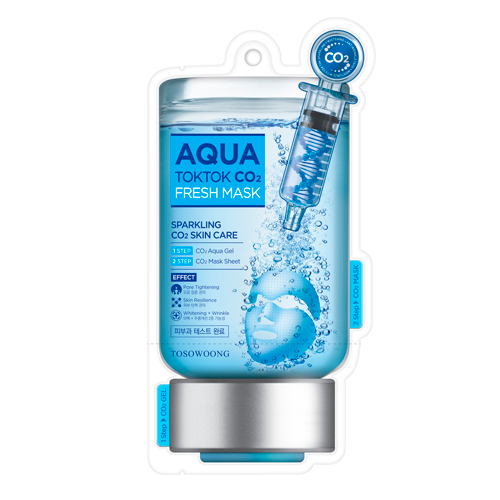 Features
Skin irritation test has been completed and certified by P&K clinical research center
that it is a hypo-allergenic product to be used for all skin types including sensitive skin.
It is composed with CO2 aqua gel and CO2 mask sheet as 2-step care to be eligible to deliver CO2 reaction to skin effectively.
Whitening + Anti-Wrinkle.
Patent Technology Applied.
Effective Pore Care.
Detail

How to use
After wash, cleanse with toner and apply step 1 CO2 aqua gel all around the face except eye and mouth area..
After applying gel attach step 2 CO2 mask sheet to face.
Dab gently with hands to absorb gel accordingly.
Remove mask sheet after 10~20 min and cleanse the remaining gel with natural sponge, etc. and wash off with water completely.
Product info.
Brand : TOSOWOONG
All Skin Type
Volume : 5sheets
Made in Korea
Ingredients
none