TOSOWOONG Monster Cream The White 100g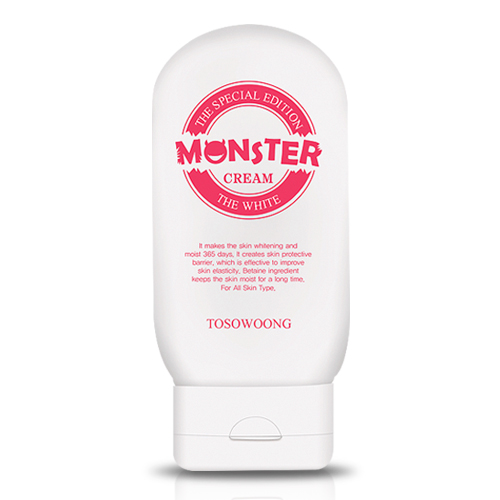 Features
Dual-functional in Whitening and Anti-wrinkle.
It is a dual-functional product for whitening and anti-wrinkle and expresses skin bright and luminous with two-tone glitters.
Moist skin without stickiness.
As containing Hyaluronic acid, Betaine, etc,.
it protects skin from dryness and keeps it moist and soft for a long time.
For all genders and Ok for face and body!
It is mild enough to use for all skin types and genders and ok to use not only for face, but also all around the body.
Detail

How to use
Gently wash your targeted area (dark spots) first and apply monster cream as soon as your skin is dry
It absorbs quickly and dries out cleanly in seconds.
Enjoy the two tones of pearl that will make your skin clearer and brighter.
Product info.
Brand : TOSOWOONG
All Skin Type
Volume : 100g
Made in Korea
Ingredients
none