Wish Formula C200 Bubble Peeling Pad 4ea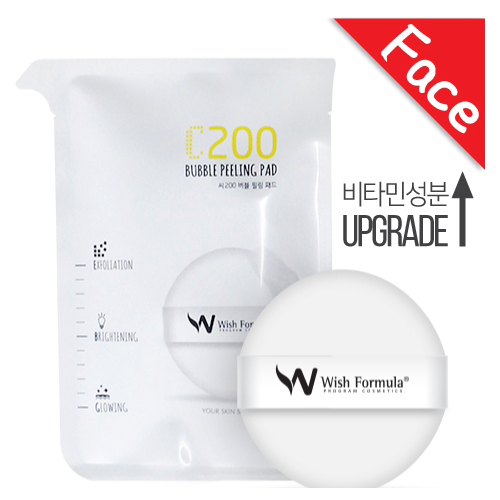 Features
Acquired 2 patents (1.Exfoliating peeling pad 2.Peeling kit)
Removes dead cell and dirt for trouble, pore and sebum care
Easily applying professional peeling program in home without stimulation.
Solve skin problems through natural AHA and natural fermented sources
Contains Pure Vitamin C for Skin Anti-oxidation and brightening effect
Detail

How to use
1. Create rich bubble with the pad by squeezing it. Proceed to the next step with clean, damp face.
2. Rub the entire face with fiber side around 2 to 3 minutes except the eye and lip areas
3. Wash thoroughly with water if the solution gets into the eyes.
4. After exfoliation, flip over the band part. Use the soft side of the pad to pat Vitamin contents into the skin and rinse off.
Product info.
Brand : Wish Formula
All Skin Type
Volume : 4ea
Made in Korea
Ingredients
none